Welcome to the Shonen Knife Wiki!
This is a Wiki all about the popular Japanese pop-punk band, Shonen Knife, that anyone can edit. 18 articles have been made since August 18th, 2009!
Let's knife!
Begin the adventure here:
Contribute to this Wiki!
You can help contribute more articles! To begin, just add a title for a page below:
Or, even the smallest bits of work are accepted. Try a hand at some of these things:
Find some article stubs (pages that don't have much writing), and help expand them!
Go to a random page, and see if anything could be done on it to make it better, or correct spelling mistakes, errors, even false information (if any).
Latest releases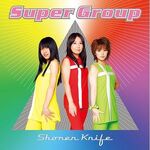 Japanese releases
Latest album: Super Group (2008.11.7)
Latest single: Orange Sun (2001)
U.S. releases
Latest album: Super Group (2009.8.25)
Latest single: ?
Current Band Members
Naoko Yamano: only S.K. member left from the original group of three since the band's original formation in the early '80s. Currently lead singer and guitarist.
Etsuko Nakanishi: one of the band's newer members, who joined on late January, 2005. Currently the band's drummer.
Ritsuko Taneda: a recent new band member, and is currently the band's bassist. Former band members: Atsuko Yamano, Michie Nakatani and Mana Nishiura.